While Bon Ami excels at cleaning a variety of household surfaces, some surfaces—like windows and floors—need a nonabrasive cleaner. For our friends who are looking to limit their exposure to harsh chemicals, we've put together the following natural cleaning solutions that can be created at home with common household ingredients.
ALL-PURPOSE SPRAY CLEANER
Ingredients
-1 cup distilled white vinegar
-1 cup water
Use on windows, floors, vegetables, carpet stains.
DISINFECTANT
Ingredients
-Juice of 1 lemon (strain to remove pulp)
-Juice of 1 lime (strain to remove pulp)
-1 cup distilled white vinegar
-1 cup water
Add ingredients to a spray bottle and shake well. Use on any surface, except for marble.
WOOD FLOOR CLEANER
Ingredients
-1 cup distilled white vinegar
-1 cup vegetable oil
Apply thin coat and rub in well.
No matter how sturdy your dishes are, eventually they will show gray marks from forks and knives scraping across the surface. But did you know these marks aren't permanent? Most everyday silverware is made of stainless steel, which contains metals that can leave behind gray marks. Because these marks won't disappear in the dishwasher, it's easy to assume they're here to stay. But with a gentle abrasive cleaner like Bon Ami, these marks should buff right out.
Before you run out and buy new dishes, try this method for removing the scuff marks, and your dishes could look brand new in no time.
What You'll Need:
-Bon Ami Powdered Cleanser
-Soft cloth
-Water
-Small bowl
Directions:
Start with a clean plate. Sprinkle some Bon Ami cleanser into a small bowl and add water to make a paste. Dip the soft cloth in the paste and gently buff out the scuff marks on the plate. On more delicate ceramics, it is best to test a small area of the plate to ensure the paste is not too abrasive for the surface.
How many of us are guilty of ignoring the microwave until it becomes so dirty we just can't stand it anymore? We miss the days of a gleaming, fresh microwave and wonder if we'll ever get them back. The good news is, with Bon Ami powdered cleanser and a little elbow grease, we can.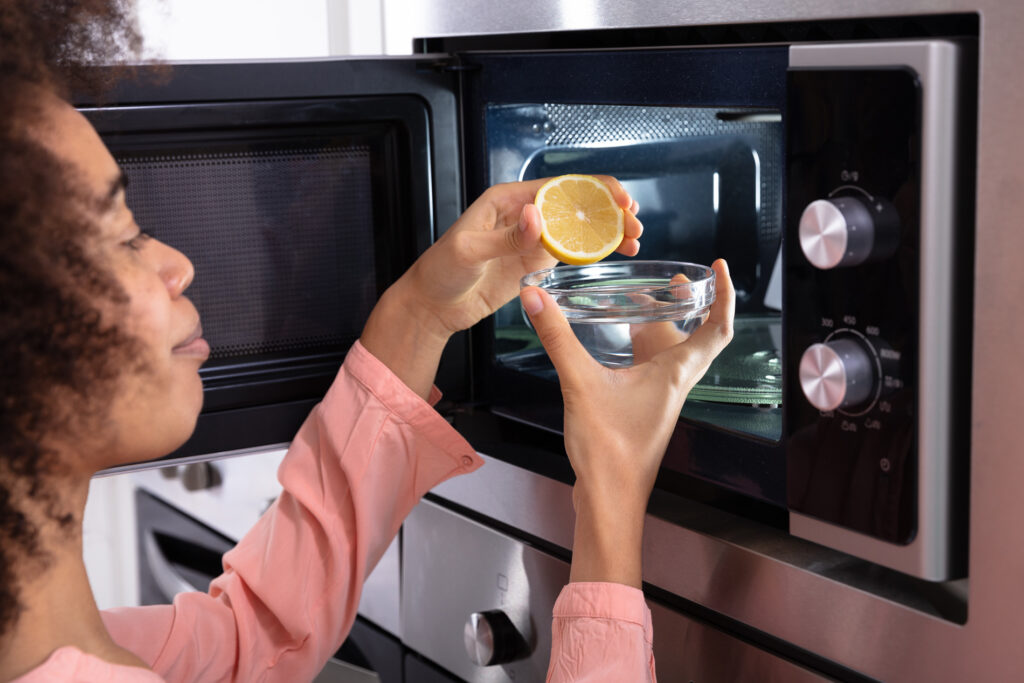 Dried sauces and caked-on foods make a microwave hard to clean. You'll want to loosen up some of that gunk before getting to the real cleaning. Start by placing a bowl of water in the microwave. If you've got a lemon, squeeze the juice of it into the bowl as well. The lemon will naturally kill some of the bacteria, giving you a deeper clean. Microwave on high for five minutes—this will create steam, which will help loosen the caked-on food and make it easier to wipe away.
When the five minutes are up, leave the bowl to sit for another two minutes. Do not open the door—this will release the steam, which is still busy loosening up food residue. After two minutes, remove the bowl with caution—it could still be hot to the touch.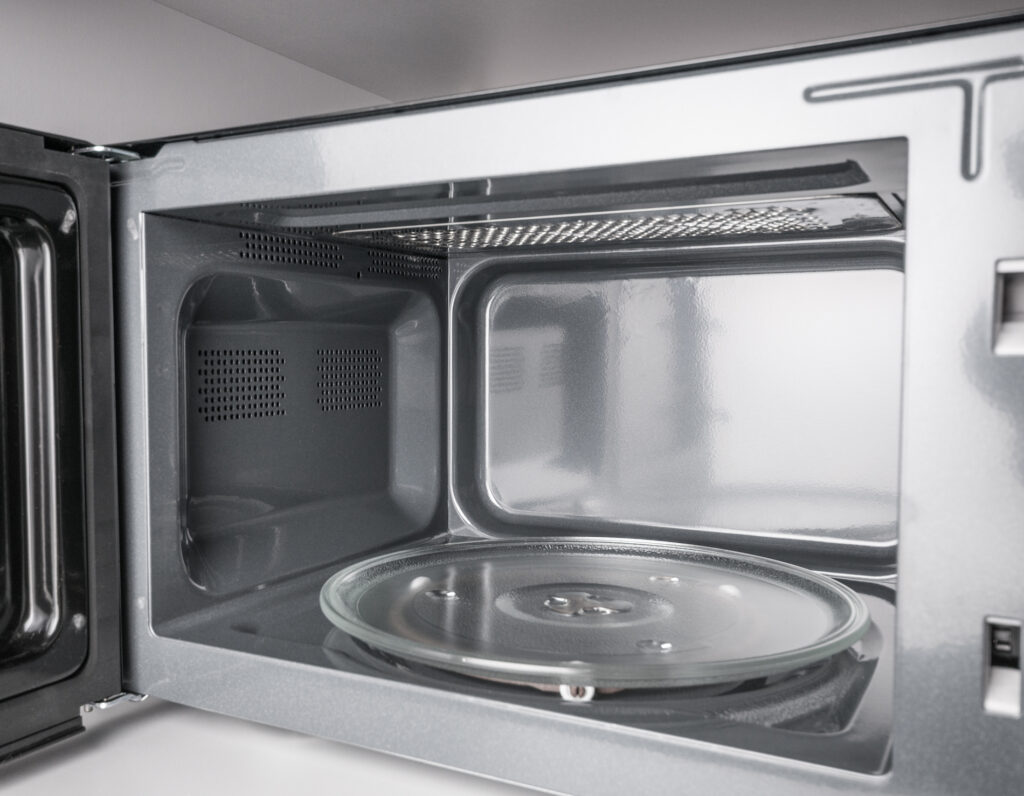 Next, remove the spinning plate from the microwave. Wet a sponge, sprinkle with Bon Ami Powder Cleanser, and begin gently rubbing the plate clean. Because Bon Ami contains no harmful chemicals, you can put it back in the microwave after rinsing and drying.
While the spinning plate is drying, sprinkle more Bon Ami on the wet sponge and get to work on the inside of the microwave. The steam will have helped loosen some of the gunk, and Bon Ami's gentle abrasiveness will ensure none is left behind.
When finished, replace the spinner plate, stand back, and enjoy your gleaming microwave.
Let's face it—glass-top stoves are hard to keep clean. A few drops of water spilled while cooking can create crusty halos around your burner that won't simply wipe away clean. Burn marks can build up over time until your stove constantly looks dirty. It's a frustration we all share. Thankfully, there's a solution—and it's an easy one.
Bon Ami powdered cleanser excels in the kitchen, and a glass top stove is no exception. Because a ceramic glass top stove isn't coated in another material (like a window or mirror is), it's okay to use a mild abrasive cleaner like Bon Ami to remove residue and stains—although, you should always reference a cooktop manufacturer's cleaning instructions before trying something new.
Bon Ami's ingredients are gentler than many silica-based abrasive household cleaners, making it ideal for use on kitchen surfaces. Calcite and feldspar, the base abrasive ingredients in Bon Ami, are softer than silica quartz but just as effective at polishing surfaces clean.
To make your glass stovetop look new in minutes, first wipe it down with a wet cloth. Then, sprinkle the surface with Bon Ami powder cleanser.
Next, gently rub the stained areas until they become smooth again. If the stain doesn't rub away at first, apply more Bon Ami and continue working it until it disappears.
Please note:
The cleaning of a glass-ceramic cooktop should be uninterrupted. Use plenty of water to keep the surface moist and apply with a soft towel or sponge. All the cleaning solution, including any residue, should be completely removed from the surface once cleaning is completed. Bon Ami, or any cleaner, should not be left in contact with the cooktop for an extended period of time. If available, our Bon Ami 1886 Original Formula (12oz red can)is even more preferred for this surface.
When all the stains have been rubbed away, wipe the surface clean using a wet cloth. For a streak-free shine, dry the surface using a clean, dry cloth. BUY NOW AT TARGET
Bon Ami powder cleanser is an effective, multipurpose cleaner suitable for many household surfaces. As a gentle abrasive, Bon Ami has scrubbing power for tough stains but won't scratch like a silica quartz cleanser.
KITCHEN & BATH
Hard kitchen & bath surfaces such as sinks, tubs, tile, pots & pans, cookware, bakeware, utensils, most countertops, faucets, chrome, and coffee pots: Wet surface. Sprinkle on Bon Ami. Rub with wet sponge or cloth. Rinse.
Delicate kitchen & bath surfaces like fiberglass, polished or glossy surfaces, imitation marble & plastic: Always test first in an inconspicuous area, then sprinkle Bon Ami onto a wet sponge, use plenty of water, rub gently, and rinse.
GARAGE & OUTDOORS
Wet surface. Sprinkle on Bon Ami. Rub with wet sponge or cloth. Rinse.
PATIO FURNITURE
Always test first in an inconspicuous area, then sprinkle Bon Ami onto a wet sponge, use plenty of water, rub gently, and rinse.